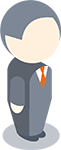 I'm Looking for Staff
Our name might be qube, but we think outside the square.
We happily source the usual, the unusual, often the exceptional, but always the perfect candidate.
The right fit for your business.
Our resources know no bounds and we are extremely well connected.
qube's candidates are loyal, because we listen to them and understand their needs.
Just as we do for our clients.
So skip the queue….contact qube for access to the best candidates (02) 8239 5222