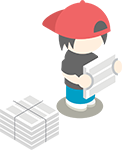 Who's qube?
We may be called qube, but we don't put people into a box.
Big or small, corporate or relaxed – there's a candidate out there searching for what you're offering, and a workplace hungry for your unique skills.
We have the network to find what you are looking for!
qube is a referral based agency. We place temporary and permanent business and office support staff including Executive Assistants; Personal Assistants; Receptionists; Administrators; Office Managers; Accounts People; Juniors; Team Coordinators.
Everyone that makes an office's heart beat.
We also supply specialist staff and services.
And we don't mind a laugh either. You can meet the team here.